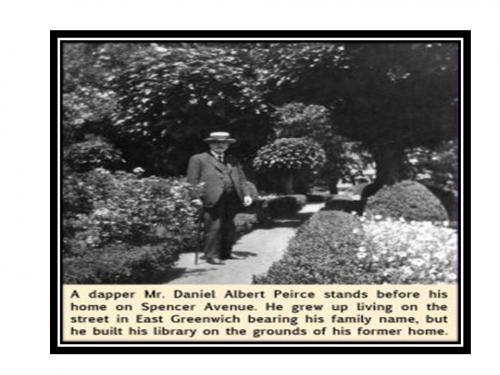 WHO IS DANIEL ALBERT PEIRCE
by Alan Clarke                                  
A few people have asked me to review some of my columns that ran locally for some 6 years. They were mostly historical in nature, dealing with Town things and under the heading East Greenwich Then and Now. I was reminded this morning that soon we will be celebrating the 100th Birthday of the East Greenwich Free Library. This greatest of town buildings was donated, fully funded, including the land and stocked with books, by local gentleman, one Daniel Albert Peirce. Here then, is that column, updated a bit by what we found out later:
Who was Mr. Daniel Albert Peirce?
We know that he presented our library to the town years ago. But what else do we know about him? Nothing. In school, we were told a little about some of the town fathers, but Mr. Peirce wasn't among them.
Martha McPartland, our former librarian and local historian has this to say about him on page 117 of her book,  The History of East Greenwich, Rhode Island 1677-1960:
"In 1913, Mr. Daniel Albert Peirce, a trustee and treasurer of the [Library] Association, reported to the trustees that he had in mind the erection of a new library which he would build and present to the Association. Not only would he build it, but he would equip and endow this library! So, on the site of his boyhood home, on Peirce Street, the library was built. The handsome structure, built of Coventry granite, was dedicated on the 29th of June in 1915, and has since been the pride and joy of every citizen of the town. Built without regard for cost and entirely for the pleasure and convenience of the townspeople, this building offered, and still offers, the finest of library facilities. The children's room, a memorial to Mr. Peirce's daughter, Adeline, who died at an early age, is spacious and complete. The reading and reference room is well equipped with current reading and reference material. The stacks are open to the public and special collections, such as Rhode Island history and genealogy, are available."
McPartland goes on to add:
"The library's main source of support is still, of course, the income from the endowment left by Mr. Peirce."
I doubt that in light of the exploding cost of things these days that this is still true, but it stands testament to his genrosity of the time.
Well we're going to find out a little bit more about this benefactor lost in the mist of history. These right things and right people deserve our remembering.
The thing that caught my attention about Mr. Peirce was the picture of his chauffeur William W. Wilson standing alongside the automobile he drove for his boss. It was a 1924 Rolls Royce, and as wealthy as some of these local guys might have been, I don't recall any of them tooling about in anything more than a Lincoln or Cadillac. A Rolls! Imagine! There has to be more to this man than the donation of a library.
There was. Much more. From The Rhode Island Pendulum, August 25, 1932, in the former newspaper style of descending headlines, subheads, sub-subheads and after-thoughts, this obit:

DANIEL A. PEIRCE,
LONG PROMINENT RESIDENT, DEAD
Cowesett Resident
Succumbs  Suddenly at Home in His 95th Year.
NOTED FOR PHILANTHROPY
Helped Organize Narragansett Electric Company and Was Official for Years
Daniel Albert Peirce, philanthropist, banker and investment broker, died suddenly yesterday afternoon at his home on Spencer Avenue, Cowesett, in his 95th year.
Although Mr. Peirce had been feeble for several years, he retained the use of his faculties almost until death.
Mr. Peirce was one of the organizers of the Narragansett Electric Company and was treasurer and a member of the board of directors for many years. Prior to that time, he conducted a brokerage and investment business under the firm name of Peirce & Salisbury, with offices in the old Atlantic Bank Building on Weybosset Street.
Born in East Greenwich on May 9, 1838, Mr. Peirce was educated in private schools of Warwick and East Greenwich. He was the son of James L. and Mary (Pinniger) Peirce. After completing his schooling, he entered the banking business with the Roger Williams National Bank in Providence, retiring later to organize the brokerage firm.
With Marsden J. Perry*, he was one of the original organizers of the Narragansett Electric Company in 1888. Subsequently, he assumed control of the Providence, Fall River and Newport Steamboat Company and placed his nephew, the late A. K. Tillinghast, as president of that company.
Mr. Peirce's philanthropic activities in Warwick and East Greenwich were many. In 1915, on the site of his former home, he erected a library building which he presented to the East Greenwich Free Library Association. A tablet placed on the wall attests to the esteem in which Mr. Peirce was held by the people of East Greenwich and vicinity. A large reading room in the building was dedicated to the memory of Mr. Peirce's daughter, Adeline Vaughan Peirce.
Mr. Peirce was for many years a member of the vestry of St. Luke's Episcopal Church, East Greenwich, and until recently an active communicant of that church.
Years ago, Mr. Peirce was very active and took a great interest in the Kentish Guards. He held various offices and finally became colonel commanding, a post he filled in a manner that was a credit to himself and to the Kentish Guards. While not active in the organization for many years, his interest remained to the last.
In respect for Mr. Peirce, flags at the Kentish Guards and Varnum armories were lowered to half mast.
The funeral service was held at St. Lukes Episcopal Church by Rev. Charles A. Meader. Burial was at St. Luke's cemetery. Services were well attended by a large gathering of old friends and associates. As a mark of respect, most of the stores along Main Street were closed during the services.
Daniel A. Peirce's portrait hangs in the reference room at the library today. He was a descendant of Giles Peirce, one of the Kings Grant founders of East Greenwich and whose name appears on the rock in front of the Old Jail.
*    *    *    *    *
*Mr. Perry, at the time, owned and resided in the historic John Brown House on Power Street in Providence, now property of the Rhode Island Historical Society.
Years of memories
 From its opening, almost 100 years ago, generations of East Greenwich residents have called this place their library. Tales from all ages are told about this place –  we hear stories from those who visit us weekly, and from those who have returned for a vacation or family reunion; it seems they all like to reminisce about reading their favorite library book, their favorite employee from the past, or just to recall a favorite library memory.
Here's one family's story:
"The story of the Elizabeth H. Bonner bookplate began more than 60 years ago with a young mother determined to share her love of reading and educations with her 3 children.  So bed-time stories, the 12 volume Book House collection, and the tradition of a book under the Christmas tree became part of the fabric of our childhood.  Soon, Heidi, The Arabian Nights, and Treasure Island introduced us to a world of adventure.  Then, in school we learned of the East Greenwich Free Library, when Miss McPartland visited our schools with baskets of tempting books.  She told us of this magical place on Peirce Street that had books just for us.  The first visit was thrilling, just pulling open those heavy wooden doors was exciting.  Then, the stained glass, the fireplace, the wainscoting, the oil portraits!  We knew immediately that this was indeed a special place.  And no one told us not to touch anything either!  The anticipation of entering this building was surpassed only by the delight of emerging an hour later with an armload of books.  We soon discovered those orange American biographies, Davey Crockett to Dolly Madison.  They were like candy.  Who could resist?  We read them all.  The firm, but kind, librarian, Miss McPartland, was always there to help.  When the time was right, she would introduce us to the adult reading room.  It was a veritable rite of passage!
As years passed, we earned the privilege of riding our bicycles to the library.  Announcing that we were out of books and had to go to the library was the only way to earn an hour or two of reprieve from cleaning our rooms or mowing the lawn.  Over time we came to think of all libraries as sanctuaries and resources.  Now we encourage our children and grandchildren to share our passion for the book.
Thus, when Robert Bonner decided to establish a trust to honor the life of his late wife, he approached his 3 children with a list of worthy recipients.  "Take your time and let me know in a week or so of your preferences."  One of us grabbed the list from the kitchen table and passed it around.  After a moment or two of silence, it was passed around again.  This time pens were poised.  Check, check, and check.  Three checks for the East Greenwich Free Library!  Shocked by our seeming haste, our father asked, "Are you sure?"  We laughed, knowing it was the easiest decision we'd ever made." 
The above was written by Betsy Bonner Cavanagh ; it was submitted by her to the library, along with family members Trish Bonner & Jerry Bonner, to help us honor our building's 100th Anniversary.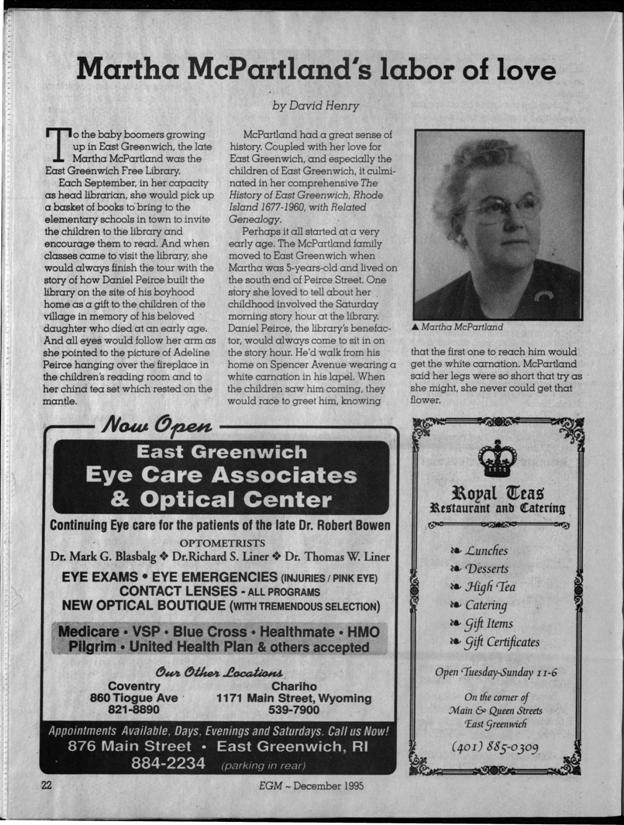 Martha McPartland Interview : East Greenwich Magazine, December 1995.                                         
The Library's Early History 1869-1915
It was fortunate for us that in almost every small village in New England there were a few men who, realizing the value of culture and education, sponsored the establishment of local libraries. In East Greenwich on March 16, 1869, a group of such men met at the office of Dr. James H. Eldredge to discuss the problem of organizing a free library. The meeting was adjourned to March 23rd, at which time it was held at Greene Farm at the corner of Love Lane and Division Street, the home of William Greene and here was signed and sealed the constitution of the East Greenwich Free Library Association.
William Greene, the grandson of one Governor of Rhode Island, the great grandson of another, had himself served as Lieutenant-Governor of this state from 1866 to 1868. He was born at Greene Farm in 1797, the son of Ray Greene, who served as U.S. Senator from Rhode Island from 1797 to 1801. The Greene family is one of the oldest in the state and William Greene was seventh in line of descent from Surgeon John Greene, one of the original settlers in this area. William Greene was a man much interested in letters and in education and felt strongly the need of a library in this community. Through his efforts the East Greenwich Free Library Association was formed and he served as its first president. A bust of the Honorable William Greene stands in prominence on the main floor of the library. Other founding members of the Association, all men of fine repute were: Dr. James H. Eldredge, scholar and physician; Rev. James T. Edwards, principal of the East Greenwich Academy; William N. Sherman, owner and crusading editor of the Rhode Island Pendulum; Professor George Washington Greene, literary man and former U.S. Consul to Italy; Richard Howland prominent manufacturer; Samuel Knowles, scholar and banker; Dr. Daniel Greene, historian and physician; Rev. Silas Crane, rector of St. Luke's Episcopal Church and Joseph Congdon, local attorney.
The first building to house the library was on the west side of Main Street opposite the head of Queen Street. This building was used for a few months and Joseph Congdon served as the first librarian, so from 1869 to 1884 members of the Association served as librarians. Dr. Eldredge took over from Mr. Congdon in 1872 ad served for a year. Professor Joseph Eastman of the Academy took the next three years and Professor George W. Greene was librarian from 1876 to 1884. At this latter day, Rev. F.A. Loomis was appointed librarian and served until 1903 when Miss Emma Knight succeeded him, serving until 1912. Mrs. Ella D. Chapman was then appointed. Mrs. Chapman will be remembered by many, as she was a tremendously efficient librarian for over thirty years. Her successor in 1942 was Miss Helen A. Potter, who in turn was succeeded in 1951 by  librarian Miss Martha McPartland. Mrs. Mary E. Rice was appointed assistant librarian in 1955.
In February, 1870, the Honorable William Greene advocated building a library on land purchased by the Association at the corner of Peirce and Montrose Streets. He pledged himself to pay one-half the cost of the structure and, when donations were slow coming in, he assumed the entire cost of the building. This building which stood where the Baptist Church House is now, served as the town library until 1915.
These years between 1870 and 1915 were precarious ones for the library, as it was very difficult to maintain a building and to staff it, without receiving financial help from either town or state. In 1893, Dr. Charles J. Thurston, a dentist in town, left most of his estate, amounting to over eleven thousand dollars, to the Library Association. This amount, when added to other smaller gifts and careful management of funds by the trustees, enabled the library to continue and to grow.